Malaysian, Indian, Brazilian, and Peruvian Hair are very popular in four textures. Whenever you buy human hair extensions, it invests considerable money and effort into it.
Thus, it becomes necessary to know the difference between them, which will also help you save more money and find the right product.Please patronize our Aligracehair, our product scores up to 4.6 points in trustpilot, and has received favorable comments and compliments from 358 customers. We also look forward to your visit.


Unfortunately, analyzing the difference of hair types is a highly-debated issue as there isn't a single dedicated method to identify them.
Differences

 

between All 4 Types of Hair
Malaysian hair – Malaysian hair is very sleek and sparkling bright when first bought, but the quality begins to wane after the first three months of use.
They appear less Charming, which gives a more natural look. They tend to hold loops for a very long time, which makes them the best fit for applying curls.
Indian hair – Indian hair appears dry than all other hair Type but still manage to maintain beautiful waves that easily form curls.
The curly hair holds very well, but they will not loosen slightly, but will never quite fall unless you are in a wet environment or the swimming pool.
Brazilian Hair – This hair is more silky and shiny in Indian hair texture. They may appear Straight, wavy, or even curled sometimes.

The Curls tend to stay for a very long time and doesn't get loose like Indian hair.


Peruvian Hair – This hair type tends to be bulky and adds a whole lot of volume to the hair.
The texture becomes more Curly and sleek, especially when washed or oiled.
Their texture is almost the same as natural African American hair when relaxed; hence, it's hard to figure out they're not Natural when installed.
Also, the data of the above-listed differences need to be collected initially before buying and compared with the end results to use the hair extensions.
Here are a more detailed description of the four textures.
1-About Malaysian Hair
Malaysian hair is supposed to come from Malaysian donors. They are usually presented as virgin wicks that have not been chemically treated.
They have a very bright appearance. This excessive-gloss usually fades after 2 or 3 shampooings.
Soft and sturdy, Malaysian hair will satisfy those looking for volume. They are still new in the market and therefore more expensive than others.
Malaysian hair is heavier, thicker than Indian hair, as well as being softer and silkier than Indian hair.


The hair dries straight with a slight wave and after a few washes look even more natural. The hair has an extremely luxurious feel to it and has a great natural shine.
The Malaysian human hair wigs are very strong and for this reason, holds curls extremely well. Curls will last all day and do not loosen or drop and no hair product is required to maintain the shape.
2-About Indian Hair
Indian hair is the most versatile on the market. The hair's density is very fine.
Robust and light while being exceptional, this hair is very fashionable. You can do almost anything with these highlights:
blow-dry, smoothing, coloring. If you want beautiful curls, Indian hair is not the best suited because they are smooth, vaporous, and mostly wavy.
Finally, we do not advise you to ignore their maintenance at the risk of finding yourself sourcing for new hair in barely months.


Also, it's naturally airy, light, and bouncy and can easily be curled and styled.
This hair also blends well with most hair textures. Indian human hair wigs tend to dry into a beautiful wave which ranges from a slight wave to very wavy, although it straightens and curls very easily.
3-About Brazilian Hair
Brazilian Hair is the most popular texture on the market right now. This hair is softness, durability, and density (thickness).
They can be smooth, wavy, or curly. They usually hold loops well and do not require much maintenance when compared with another Hair type.


They are often hair with a treated texture. It is essential to know that the vast majority of "Brazilian" wicks found on the French market are most often Indian hair harvested in temples and exploited by Brazilian companies.
 

There are 3 types of Brazilian
Top-quality: The virgin Brazilian hair Remy which is a thick, shiny version of Indian hair and often available in great lengths. In good condition, it accepts different settings, coloring, and any styling practice.
Average quality: The Brazilian hair Remy. Avoid coloring or discoloring, and it has already been treated at the factory.
Standard quality: The non-virgin Brazilian non-Remy hair treated chemically and whose cuticles are not oriented in the same direction is a good entry-level product. Avoid chemical or thermal treatments.
This textured hair is extremely luxurious and very soft with a lot of body and natural shine. Its luster is low to medium.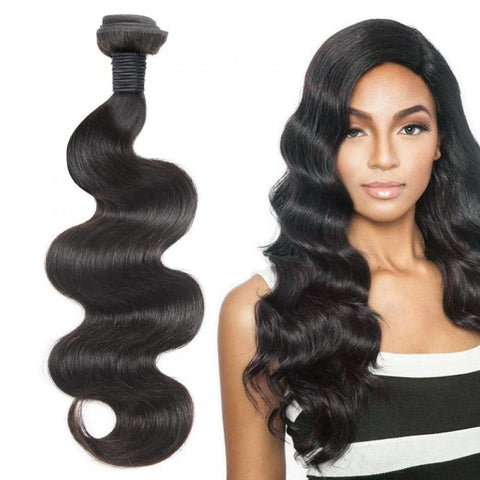 In this photo, the model is wearing Brazilian human hair wigs for added length and volume.
Because of the density of virgin Brazilian hair, you may not want to use as many bundles as you would normally use with other textures to create a full look.
Due to its natural density, it is less likely to frizz than other hair types like Malaysian or Indian Hair. This hair will also hold curls very well and tends to hold curls longer than Indian or Malaysian textures.
4-About Peruvian Hair
This Hair type is very dense and comes with hard wicks, Peruvian hair is among the most durable and robust.
they reflect the ethnic diversity of the country through the available shades and textures – from black to light brown, from smooth to wavy, and even curly.
They will be perfect for those who want to add more volume, but they're very rare; hence, they're expensive.
Peruvian Human Hair Wigs are a little coarser and thicker in texture than Indian or Brazilian hair.


◆It grows naturally straight, wavy, or very curly. It blends well with normal African-American relaxed hair textures.
◆The curly texture becomes more curly when wet or washed. It comes in natural colors of dark or light brown, this hair is luxurious and another one of our favorites.
Peruvian hair and Brazilian hair are the most popular two textures. And for the hair wave, straight hair is the easiest to maintain. So if you are a rookie for human hair, straight hair will be the best choice.