#Q1 How do I wear my wig for the first time?
Remove wig from the plastic bag. Gently remove the protective hair net from your wig. Give your wig a few good shakes to separate the fibers to give some body to the hair. Some wigs need to be shaken to release the pre-set styling.
Brush your hair away from your face and secure a wig capin place, tucking in any extra hair.
Hold your wig at the sides with the woven label in back. Place it at your natural hairline and slide it on from front to back. Adjust the wig as needed so the front edge is just over your natural hairline. Use the ear tabs to centre your wig from left to right. If the wig is too tight undo the hooks at the base of the neck and try again. If the wig is too loose move the hook up a level and retry the wig - repeat until comfortable.
Tuck in any stray hairs at the front, sides and nape. Use a soft brushto style.
#Q2 Will my wig blow off?
Don't believe what you see in the films...  Our wigs are all fully adjustable with 4 internal comb slides for an easy, secure & confident fit.
#Q3 Can I cut my wig? 
Of course! A little trim is usually hassle free. However, if you are considering restyling or thinning your wig, we highly recommend you take your wig to an experienced hairstylist who will advise you or do this for you. 
#Q4 Can I color my wig? 
Our wigs are made from the latest technology heat style-able hair-like fibre, however, you cannot color them. Only wigs that are 100% human hair can be colored.
The best way to store your wig is on a wig stand. Not only does this help prevent your wig from becoming tangled or flat between wearing, it also helps to maintain your wigs style and shape. Ideally, your wig should be stored in a clean, dry place, away from dust and sources of high heat or flame. If you do not have a wig stand always store your wig turned inside out and place it in a shoe box or similar.
#Q6 How do I wash my wig?
You must wash and care for your wig if you want it to last. Treat it with the care that you would treat your own hair. Brush it, wash it & love it. Here's a full step-by-step guide on how to care for your wig.
#Q7 How do I know if a wig will fit?
All of our wigs are unisex sizing and will fit a head circumference of up to 23.5". Our wigs are also adjustable using the hooks at the nape of the neck. Find the right setting for comfort and confidence. If you're unsure, place a tape measure around the widest part of your head and measure the circumference, if it's under 24 inches you will find all our wigs comfortable. 
#Q8 How do choose the right style of wig?
There's a great technique for this... Know your face shape!
#Q9 How do I choose the right color of wig?
If you want to play it safe and you're aiming to achieve a natural look then try to stick to something close to your natural hair color / a shade that will compliment your skin tone. Don't be afraid to try something a little out there though - you never know what might suit!
#Q10 I'm suffering with hair loss; which cap is most suitable for me?
We have a small but growing range of monofilament wigs that are great for this purpose. They allow multi-directional styling for a natural feel and they are made with a light and breathable cap.
#Q11 What's a lace front wig?
Lace front wigs create the illusion of a natural hairline and can therefore be styled away from the face. The sheer lace material can be trimmed to fit your own hairline achieving an incredibly realistic and natural look. Our lace front wigs can be used with or without lace glue. You can also put a little foundation on the lace to blend perfectly into your own skin.
#Q12 Can I have a bespoke wig made for me by Aligrace?
Unfortunately, we don't make bespoke wigs, however, all of our wigs are designed in-house so we are very open to hearing any ideas our customers have for future designs.
#Q13 Do I need to shave my head to wear a wigs? 
Natural Line wigs have been created for women totally without hair. However, people suffering from alopecia areata can wear wigs based on Comfort Cap, or Basic Cap as they are silicone-free and therefore also suitable for those who have hair.
People who suffer from alopecia areata who choose to shave their head completely will be able to wear wigs created with Sensitive Cap or Confidence Cap: both of which have a built-in non-slip silicone strip, eliminating the need to fix the wig with adhesives.
#Q14 Which hair products can I use on my wigs?
Wigs do not receive nourishment from the scalp, so they need more care than regular hair. Careful maintenance is essential. Common shampoos and conditioners should not be used on your wigs. Instead we recommend protein-rich products to compensate for the lack of nourishment.
#Q15 Can I color or dye my wig?
Fair Fashion's Natural Line wigs are available in over 32 colors. This is so our customers can find a wig already similar to their natural hair color.
Being made of natural hair, you can dye a Natural Line wig, though this must be done by an experienced hair professional. So if you want to color your wig, we recommend that you contact an authorized salon.
Coloring should always be done from light to darker tones. Discoloration should be avoided as it can cause permanent hair damage (such as drying, making brittle or frizzy). Remember that the hair has already gone through a dyeing process, albeit delicate so please take care.
Natural Line provide multi-tone colors to reproduce the natural appearance of hair. For example, color 8 (a medium brown) is actually made by mixing 2-3 similar browns. Some colors are also available with a Calico, Shatush or regrowth effects.
#Q16 Will my wig fade over time?
Whether colored or not, all natural hair will discolor over time largely due to exposure to sun light.
To overcome the natural lightening process you can dye the hair a Natural Line wig (after all it is 100% human hair). We recommend that you ask at your nearest authorized salon to get your wig darkened to the shade you want.
#Q17 My scalp is sensitive:can I still wear a wig?
Our wigs are designed for comfort. They are made with latest generation, high quality materials. All mesh are cotton and the caps are breathable.
Sensitive Cap, is the lightest we have ever produced.
In rare cases even the best materials can irritate sensitive skin. In case of irritation, we recommend using an undercap to protect your skin. For persistent problems please consult a physician.
#Q18 Can I wear my wig immediately?
Before wearing the wig we recommend giving it a gentle brush, as it will have been packaged with a standard blow dry.
The hair can be styled and blow dried with a standard hairdryer, straighteners and hairspray, to fit the wig to suite the shape of your face.
#Q19 I have very little hair and may soon lose all my hair-which wig is best for me?
Our wigs have been created with alopecia sufferers in mind. If you suffer from hair thinning, patchy or complete alopecia, we have the right product for your requirements.
15 models on 5 different types of cap (shell) are ready waiting for you. Each comes in a range of colors to satisfy even the most demanding customers.
#Q20 How to choose the color of my wig?
Once you have chosen the model, you will find a color picker at the foot of the page. Alternatively you can contact your nearest authorized centre to check out hair samples and try on the caps to find the one best suited for you.
If you have never worn a wig before, we recommend choosing the color most similar to the natural color of your hair.
#Q21 Are the online color samples realistic?
Throughout our website, the page of each model has a color chart showing photos of each color. It is important to note that the color on the screen does not perfectly reproduce the actual color in real life. Each monitor or screen is different in both design and in color calibration and brightness. Some screens for example make images clearer or warmer. We recommend to contact your nearest authorized salon to view our wig colors. Also consider that hair color changes slightly when placed under natural light or artificial light.
#Q22 Why is it important to have more than one wig?
We suggest you keep at least two wigs with you at all times. The first and most obvious reason is that a wig will last longer if it is not worn every day. Secondly, there may be times when you need a substitute such as when you wash the wig it will take time to dry, or when it is off for repairs.
Your wardrobe may well contain at least 3 bags to suit your look, or more than 10 pairs of shoes. A wig can be important for your image. Our advice is always to have at least 2 available to cover any eventuality.
#Q23 What is the best way to store my wig?
We recommend storing your wig in a cool, dry place, away from sunlight, This will help preserve the color and prevent accidental damage. To avoid knotting and maintain the shape of the cap, store the wig on a mannequin head. Use only the officially recommended brushes and products for the care and maintenance of your wig.
#Q24 What are the delivery times for standard orders?
Our wigs are ready for immediate dispatch to meet even the most urgent demands. We understand that many purchases are made due to medical therapies and thus our customers need to receive their wig in a short period of time.
#Q25 Can you reproduce a color of hair?
Yes, we can recreate almost any color – this would obviously be classes as a tailor made solution.
We will need to receive a color sample (a small strand of hair) that can be used as reference. We can reproduce almost all shades of colors, from black to blond color with Calico or Shatush effect on any wig model.
#Q26 Can I send a wig as a color sample?
Yes, you can send us a wig as a color sample used to create a new wig in the same color (in fact, almost any color can be reproduced).
However, it is important to note that natural hair cannot be compared with synthetic hair. So if you want us to send as a synthetic fiber wig as color reference, remember that they have very different characteristics and therefore are not comparable
#Q27 Do you provide a guarantee on your wigs?
Yes. We guarantee the wig for up to three months after purchase, because we know and trust the quality of our materials and workforce.
However, the guarantee is only valid if you follow the use and maintenance guidelines. This is to distinguish between defects caused by improper processing (which are covered by warranty) and damage caused by incorrect use.
A wig can be easily damaged by for example exposure to high temperatures, poor cuts, use of strong products, coloring and perms to name a few. The behavior that the person adopts affects the state of the wig, for example, sleeping with the wig on the head, or failing to rinse the wig after swimming in the sea or a chlorinated pool can lead to a quicker deterioration.
We try to educate our clients via workshops on the rules for proper use and maintenance of the wig.
Fair Fashion reserve the right to inspect and verify the origin of the damage before you activate the product warranty.
#Q28 How long on average does a wig last?
The life of a wig depends primarily on the care and attention of the wearer. Correct care for the wig can extend the life by up to two years.
On the other hand, other factors such as the uses of straighteners, hair dryers or sleeping with the wig can accelerate the wear and tear. Chemical processes such as perms, dyeing or the use of hair sprays and gels all reduce a wigs lifespan.
The lifespan of a wig also depends on the cap used and of the type of hair with which it is made.
A handmade wig not usually last as long as a machine made wig. Hair loss is in fact a natural process for this type of wig as the knots come undone over time each time the wig is worn, causing a progressive loss of hair. Even if well maintained, a handmade wig will have to be thickened after the first 9-12 months.
Another element to consider is the type of hair. Remy Hair with intact cuticles have a longer shelf life, whilst hair without cuticles will need more care and last less as they have been more processed.
Regarding toupees, those fixed with adhesive last less than those applied with clips as the latter can be removed at night.
#Q29 Can I sleep with my wig?
Yes, it is possible to sleep in a wig or toupee, but it is important to note that they will wear out quicker. This is for two reasons. Firstly, the time of use will be almost double (worn for 24 hours a day rather than 12 hours every 24). The second reason is friction – the hair will rub on the pillow during sleep.
Anyone who wishes to sleep in their wig, we suggest you use a silk or satin pillowcase to reduce friction and allow the hair can move more smoothly on the pillow.
If you own a long-haired wig, we suggest wearing the hair up to keep the hair from tangling during the night.
#Q30 Do you have different types of hair?
Yes, our wigs are made with different types of hair depending on the model, this allows us to offer a variety of products over a broader price spectrum.
We always use Remy Hair – the finest quality of hair, with the cuticles all pointing in the same direction from root to tip.
On some models the cuticles are intact on other partially removed to avoid problems with the return from the knot. Our wigs with shorter hair have had the cuticles completely removed.
All you need to know about hair and wig production.
Here is a more detailed look at the hair types and wig models:
European virgin Remy Hair with intact cuticle: this very rare hair type. The hair has not undergone any type of treatment (hence the "virgin") and have retained intact the cuticle. This is the highest quality hair, reserved for luxury products.
Eurasian Remy Hair with intact cuticle: We use the best quality hair with intact cuticle availableon the market.
Eurasian Remy Hair without cuticle intact: we use this type of hair carefully treated as it is thinner than typical Asian hair. Irene is the only long-haired wig made with Remy Hair without cuticle. This is allows us to offer a long-haired model at a reasonable price (thanks to the machined produced cap).
#Q31 Can I perm my wig?
The darker hair models with intact cuticles can be permed. Perming should be avoided with blond hair. Perming is likely to lighten hair. So if you intent to perm your wig, choose a darker tone than the desired color.
We don't advise doing this by yourself, but through your nearest authorized salon.
Bear in mind that any chemical treatment will reduce the hair length.
#Q32 I want to make my wig as natural as possible-what can I do?
Natural Line wigs are all extremely natural thanks to the cap design, the cuts and colors that reproduce the effects of natural hair.
#Q33 Can I style, straighten and blow dry my wig?
Our wigs only use high quality human hair, so it is possible to style the wig just as if they were the hair growing from your scalp. However, tools for hot styling (such as blow dryers and plates) damage hair over time. You may want to use thermo protector products, to protect hair from damage caused by heat.
#Q34 Can I swim wearing my wig?
Even though we know that many of our clients don't follow this advise, we suggest not to swim with your wig on.
There are two reasons for this: chlorinated and salt water damage and fade the hair (particularly in combination with exposure to the sun). Secondly, the hair absorb the water, making the wig heavier and causing loss of shape in the cap.
We suggest using one of the many synthetic wigs on the market that repel water for anyone who swims regularly and doesn't want to leave their wig in the changing rooms.
#Q35 Is the wig a tax deductable item?
For tax deduction of the cost of a wig you must indicate on the invoice that the product purchased is a wig or hair implants. The invoice must be attached to the medical certificate attesting to the disease or the treatments that caused the hair loss.
The tax deductable percentage may vary according to the territory where it was purchased.
A wig is considered a medical device, private insurance could help to fully cover its cost.
#Q36 How often should I wash my wigs?
We advise washing your wig once every 7 days or when it seems dirty. As a rule of thumb, if the hair tips don't move freely, it is time to wash the wig.
#Q37 Are your wigs already styled?
Yes. All wigs are pre-cut and styled based on the model.
We advise your to personalize the style to suit your own face shape and, if necessary, correct the cut to your face, especially the fringe. For cutting it is advisable to contact a professional hairdresser.
#Q38 Do you have wigs for people suffering from total or near-total hair loss?
Fair Fashion created Natural Line, a line of natural human hair wigs for those who have lost their hair due to alopecia, radiation treatments, chemotherapy or other causes.
A wig should not only be comfortable for sensitive skin, but also be resistant to withstand everyday wear and tear, even of the most active women. For this reason Natural Line have created 5 different caps (shells) suited for the needs and lifestyles of different women: Sentivive Cap, Confidence Cap, Comfort Cap, Natural Cap, Basic Cap and Anti-Slip Cap.
#Q39 Do you lighten the knots?
Yes. This is an additional service that we produce on request for customized orders.
#Q40 What to know about heat friendly synthetic fiber?
If you enjoy styling versatility, human hair or heat friendly synthetic hair is the way to go. While human hair offers the most natural look and feel plus styling versatility, heat friendly synthetic hair also allows heat styling (optimal temperature of 120-135 degrees Celsius - never go above 175 degrees Celsius). Proper care is vital to keeping heat friendly hair looking its best. A wide tooth comb should be used (not a brush) and it is best to avoid combing while wet. Use of product specially designed for synthetic hair, such as our synthetic hair care range can also help maintain the quality and condition of the hair. We also recommend a detangling spray! With proper care, heat friendly synthetic hair should last up to a few months.
#Q41 What are the different types of wig caps?
Constant innovation in technology allows for increasingly wearable and comfortable wigs. The base of any wig is referred to as a cap. The hair is attached to the wig cap using a variety of techniques to achieve different looks. On most wigs, hair is attached in 'wefts'. These are strips of hair doubled over and sewn closely together in long strands. Others are hand tied for the most natural movement. If you like to wear your hair swept away from your face, lace front wigs are the best option. If you like parting versatility, we recommend full monofilament wigs. The 100% hand tied and double monofilament wigs are known for being gentle on sensitive scalps.
#Q42 How do I know my wig size?
Many wigs come in petite, average and large sizes. Average size wigs however, tend to fit about 95% of people. If you are unsure of how to measure your head size, contact us and we can guide you through the process.
#Q43 How do I choose a color?
We aim to make purchasing the right color online just as easy as in our salon (or easier)! Once you have found a style you like, it is time to select a color option. If you are new to wigs, consider staying close to your natural color (you can always have fun experimenting with color later). At Aligrace, we capture our color photo images in an extremely controlled studio environment making them the most consistently accurate available. You can also order color rings or make use of our expert color consultation services by submitting a photo or a hair swatch.
#Q44 Are color swatches accurate?
Hair color images are presented to give you a visual representation of color options for each item. However it must be noted that on screen representations do not necessarily precisely represent actual colors due to variable computer monitor calibrations. Additionally, the computer or device you use may have an impact on how the colors appear. For example, Apple computer devices tend to make colors appear slightly warmer.
#Q45 How do I put on a wig?
After removing your wig from the box, take off the protective hairnet (if the style has one) and give it a good shake. If it is a ready-to-wear synthetic hair wig, you are ready to go! If it requires customization (such as trimming a lace front), we recommend you consult a wig specialist or visit our salon.
If you have a lot of your own hair, the first step is to gather it back and up. One great trick is to separate the hair into two sections on each side of your head. Twist the hair as you pull it back and around the head so that it will eventually lay flat. This tactic can help avoid a pony tail bulge. You may choose to use pins, braids, wig caps (recommended) or a great product called Sure Grip to secure your hair. A wig cap can be helpful even without hair to keep wigs secure and in place.
Hold your wig at the sides (ear tabs) and starting at the front, place it at your natural hairline. Slide it on toward the nape of your neck and shift as needed using the ear tabs to help center your wig. Adjustable straps at the nape may help to achieve a more secure fit. If handling a lace front wig, take care not to tug on the lace as it can be a bit delicate.
Don't worry if it doesn't look perfect right away, start styling!
#Q46 Any tips on making wigs appear more natural?
Human hair wigs tend to offer the most natural look, but today synthetic wigs can also look very natural as well thanks to great innovations in wig technology. Styles with lace front and monofilament features or those that are 100% hand tied will also appear very natural. When it comes to choosing a style, consider styles that will be most flattering given your face shape. As for color, it is often wise to stick close to your own natural hair color.
#Q47 Which wigs are better for sensitive scalps?
100% hand tied or double monofilament wigs tend to be the most gentle on sensitive scalps. Some people use wig caps to protect the scalp. In our wig accessories, the Sure Grip product is a hypoallergenic comfort liner designed to add cushion - particularly at pressure points to improve both fit and comfort.
#Q48 What if my head sweats a lots?
Not to worry! We offer a great solution with No Sweat Liners by HEADLINE IT!
#Q49 How do I care for my wig?
Wigs come with instructions from the manufacturer that should be followed. When not in use, store your wig on a mannequin or wig stand to maintain its shape and wash only when necessary - roughly once every 7 days of wear but more often if your lifestyle or environment calls for it.
#Q50 Should I own more than one wig?
Yes! First the practical reasons. Wigs can last longer if not worn daily. You can be washing and air drying one while wearing the other. If you wear human hair or heat friendly synthetic hair, you can keep one styled straight and the other curly to reduce stress.
#Q51 Can I curl or straighten my wig?
Synthetic hair wigs can be irreparably damaged if you try to curl or straighten the hair with heat tools. Consider human hair wigs for the ultimate styling versatility as you can curl or straighten them as you would your own hair.
#Q52 Can I color my wig?
Most wigs offer a variety of colors to choose from, lessening the need to color them. While synthetic hair cannot be dyed, human hair wigs can. But it is a tricky process that should be handled by a hair professional only. We recommend only going darker, not lighter as there is a lot of chemical processing involved in the making of a wig and any additional manipulation can cause damage.
#Q53 What is the best way to store a wig?
A wig stand or mannequin head is ideal. It will help keep the hair from becoming tangled and will help to maintain the shape. Also, see if you can find a cool, dry spot to keep wigs in their best condition.
#Q54 Can I swim or shower with my wig?
We do not recommend this. It can put too much stress on the hair and create unmanageable tangles. Also, pool chemicals and salt can damage and dry out the hair as well as affecting the color.
#Q55 What are the different types of wig attachments?
There are a lot of different kinds of wigs and there are many different methods of attachment to help secure the hair in place such as tapes, pins, clips, wraps and combs. The choice is ultimately up to the individual and depends on each persons situation and preference.
#Q56 What are some ways to tackle thinning hair?
If you are thinning on top, at the crown or at the hairline, you may choose to wear a hair piece or topper / top piece in lieu of a full wig. Many wigs blend in so naturally with your own hair, even experts are hard pressed to see them when in place. They are also a great option if you want to conceal grey or new hair growth between color touch ups.
Yes. We do offer wholesale discounts for larger orders. Please contact us directly for more information, however resale is not permitted without explicit permission.
#Q58 How do I care for my Wig? Can I wash my Wig?
Yes you can wash it. There are plenty of free tutorials online to help with this, this one on Youtube is great. It covers how to wash and care for both Synthetic and Human Hair Wigs. 
#Q59 Can I curl my Wig?
Yes. Our heat safe synthetic hair can be styled with hot tools at a temperature of up to 180 degrees Celsius. They can be straightened with a blow dryer or flat iron and they can be curled with a curling wand, curler or roller set. Although they will not hold as well as human hair. Of course with human hair the style will hold better and look more natural.
Heat safe synthetic hair is the better option if you're looking for something affordable and short term. This is the perfect option for a costume party or photo shoot. All of our heat safe synthetic wigs are lace front and can be parted along the hairline from ear to ear. It is possible to make a heat safe synthetic wig look just as good as a human hair wig however the overall quality and longevity will not be the same. Some of the most common complaints about heat safe synthetic hair would be tangling, excessive shine or lustre to the hair or simply the fact that styling is not as easy as dealing with human hair. Fortunately, there are many tips and tricks to making your synthetic wig appear more natural.
You can use a dry shampoo or even baby powder on the wig to make the synthetic shine completely subtle and undetectable. You can also use a tweezers to gently pluck away hairs from the parting for a more realistic scalp illusion in the wig. (Plucking with great precaution and only plucking two strands of hair at a time to avoid ripping the lace).
Many people will then apply concealer or foundation to the parting to give off the illusion of an actual scalp. You want to make sure to gently detangle your wig before and after each use starting at the tips of the hair and gradually working your way up. You want to also make sure to always store your wig in a secure space or keep your wig on a display head or in it's original wig box to avoid any tangling or damage.
As for our human hair wigs and hair extensions, we use luxury grade imported raw virgin human hair of premium quality. Our human hair wigs can be custom colored, lightened, chemically processed and heat styled. Human hair is the better option if you're looking for something for everyday use and want as much versatility as possible. This will be the best option for someone In need of a long-term wig and wants the freedom of styling their hair with out having to monitor heat. Human hair wigs and hair extensions need to be cared for the same way you would care for your own hair. By using heat protectant products, deep conditioning and making sure to detangle frequently to avoid any unnecessary tangles.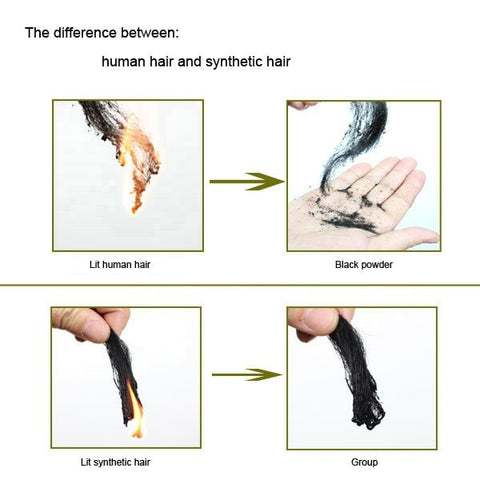 #Q61 How Do I apply my wig to make it look natural?
This can be one of the biggest worries, but do not panic, we have our very own tutorial by Aligrace containing all the tips and tricks you need. you can view it below, 
#Q62 What is Lace Front Wig and Full Lace Wig?
Lace Front Wig: "Lace Front Wig" or Front Lace Wig only has lace in the front of the wig .its made by half hand and half machine.
Full Lace Wig: "Full Lace Wigs" are lace wigs which are designed with the entire wig cap being made from lace as well as lace all around the perimeter of the wig. Its made by full hand. Full lace wig can with strap and combs.
#Q63 What are Bleached Knots?
When a dark hair is tied to the base of a lace wig with a knot, you can see a dark dot on the skin, especially when the base is lace. Lace cannot hide the knot in the same way a monofilament base does. Bleached knots usually are only done at the front of the lace wig and it helps create the illusion that your hair is growing out of your head.
#Q64 What does Density refer to?
The density refers to how thick the hair is and what density you order is really based on personal choice. Most women achieve a natural appearance with light to medium or medium density; however, your choice will depend on your styling preferences and individual profile.
#Q65 How long I can expect the wig to last?
The life of your wig will depend on your use and care of it. If handled properly, it should last you about 6 months before needing hair added or a repair. If used as your main form of hair replacement and you are using daily, it is realistic to expect it to last 3-6 months before needing a repair or hair added.
#Q66 Will the hairline on the lace wig have a natural look?
Yes, when you wear the lace wigs correctly according to our user guide, the hairline will have a natural look, just similar as your own hair growing from your scalp. For customer order, we recommend you to have baby hairs around the front and perimeter of the wig and make the hairline with more natural looking.
#Q67 What is the baby hair for a wig?
For a lace human hair wig with baby hair, Lwigs trims a few of the wig hairs at the hairline in order to make the wig look more like a natural head of hair. If you wanna do a ponytail and not show the cap, it's better to choose a wig with baby hair or at least with back only baby hair.
#Q68 What is the difference between Full Lace Cap with Stretch and Full Lace Cap without Stretch?
These two caps are with lace all around the perimeter and available for you to wear your hair in updos and high ponytails. When the caps are glued down, the wig will have a natural hairline all around the perimeter. The unit can be parted anywhere as you wish. Full lace cap with stretch will be helpful for adjustment on your head size. Full lace cap with ear to ear stretch can be adjusted in Circumference. Full lace cap with stretch in crown can be adjusted in crown. Full lace cap without stretch does not have stretch and can be worn by women without hair or with scarce hair.
#Q69 What is the difference between Swiss lace & French lace?
Swiss lace is finer and softer than French lace. Swiss lace is with better and natural looking to match the skin. French lace is a bit thicker and more durable for use. Both two types of laces can be dyed to match different skins.
#Q70 Do I have to wear a wig cap with the wig?
No, you do not need to use any wig caps under the wig. You can easily part your own hair at the same point as your wig before wearing the unit, which will strengthen your parting on the wig while use.
#Q71 Is the wig available for being parted as I wish?
Yes, if you order free part lace wig, you can part it anywhere as you like.
#Q72 Can I wear my lace wig in a high ponytail?
Yes, you can wear your wig in a high ponytail once you apply around your full perimeter with adhesives. You will need a cap construction that is made with lace around the perimet.
#Q73 Can I shower or swim with lace wigs on?
Yes, you definitely can. Well! You had better to put waterproof adhesive or tape on your lace cap when you swim. It is recommended you to wash it after you swim with it. Anyway, you can exercise in your wig.
#Q74 Will the glues and tapes break my skin out?
Just like any other new product that you may use, we do recommend that you do a skin test of you are prone to irritation or have sensitive skin. 98% of customer has no problem with the glue or tape.If you have sensitive skin, you may want to start out with the Spirit Gum or Hollisters Medical Adhesive.
#Q75 What is silk top?
There is a layer lace which is made of silk fabric on the top front of the cap. When the hair is knotted, it will be concealed between the layers. It's hard to notice the knots it will give you the nice feeling that it seems like the hair is actually growing out of your scalp,the knots are 100% invisible.
#Q76 The process of customizing a full lace wig.
Aligrace aims to make custom-made full lace human hair wigs which are 100% purely hand tied. For the high skill and guaranteed quality, a customized full lace wig needs 20-25 working days. If with a silk top, it needs 25-30 working days to finish.
Below is the steps for making a full lace wig by Aligrace:
1) Make the full lace cap as the customer's sizes and request.
2) Collect plenty of raw material and sort out the kinds of hair. And the hair must have acid treatment in order to kill the bacteria.
3) Weigh and dye the hair. The density of the hair (we ourselves measure as the hair weight) is according to the requirements of customers. Tie it well with band for spare.
4) After the lace cap and the hair are completed, our professionals will hand-tie the hair evenly on the lace cap.
5) Finalize the design for wavy or curly. Put the hair into a hot oven, adjust for proper temperature to finalize the design.
6) If the wig needs professional hairstyles, like bob cut styles, our professional hairdressers will style them before shipping.
#Q77 How to order a wig that can be dyed by yourself?
If you wanna re-dye a wig at home, please order a natural color (natural black), no dyed wig. And #Q613-platinum blonde is another choice if you would like to dye your own hair color.
Please NOTE that, color #Q1-jet black is a color cannot be dyed, please do not bleach your #Q1 jet black hair. And bright colors can be dyed to darker colors, dark colors cannot be dyed to bright colors.
Leave us a message like that" I wanna dye the wig myself, give me a no-dyed, natural colored wig" when you place your order.
#Q78 How to care your human hair products?
Put the hair into the warm water( no more than 95 F) ,and soak the hair;
Apply mild shampoo and wash the hair;
Rinse the hair in the water;
Soak the water with the towel,apply conditioner to the hair and wait for about 2minutes;
Rinse the hair in the clean water.Bring a basin of the clean water and rinse the hair again;
Squeeze the hair gently;
Soak up the hair with the towel;
Air.dry the hair with opening the weft.